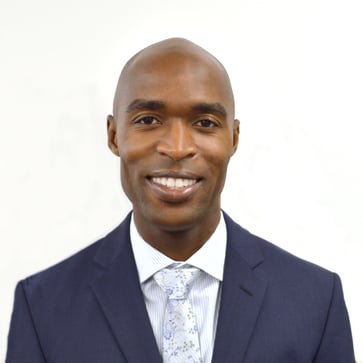 Cordia Resources continues to grow our talented team with the addition of our new Recruiting Specialist, Shawn Geegbae!
Shawn Geegbae is based out of our DC office and is focused on full-cycle recruiting through sourcing, qualifying, and building long-term relationships with jobseekers in the Washington, DC area to help them meet their career goals. Prior to Cordia, Shawn worked as the Business Development Manager for a financial literacy startup in Los Angeles, CA. Through sports, the organization taught middle school and high school students financial concepts in a more interesting, relateable, and applicable way. He graduated from Syracuse University with a B.S. in Finance and then spent several years on Wall Street as a commodity broker. Shawn decided to transition into the recruiting field after moving back to Virginia because he "was looking for another way in which I could help make people's lives better and recruiting offered that opportunity".
Shawn will be working alongside Chrissy Li, whom commented, "We are elated to have Shawn join our team! Shawn's relevant professional training, strong interpersonal skills, and genuine desire to help others will contribute to his success at Cordia. Welcome aboard, Shawn!"
Click here to learn how Cordia can help you with your Staffing & Recruiting needs!
About Cordia Resources
Cordia Resources is a leading recruiting, executive search, professional consulting and temporary staffing firm specializing in placing accounting, finance, contract administration and human resources professionals throughout the Washington, DC region. Our expert search, recruiting and staffing solutions support business growth in the commercial and not-for-profit markets, government contracting, technology, professional services, hospitality, real estate and many other industries. Learn more about our staffing solutions at www.cordiaresources.com
About Cordia Partners
Cordia Partners is a leading provider of outsourced accounting, technology consulting, and business advisory services in the Washington, DC region. Our proactive, client-centered approach allows you to focus on your core competencies and overall success of your business. We support government contractors, commercial firms and not-for-profit organization during all stages of business growth with best practices and real-world strategies that drive results. Learn more about our consulting and outsourced accounting solutions at www.cordiapartners.com.