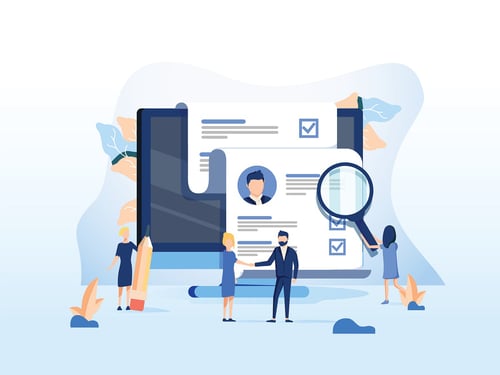 When it's time to scale a business or meet the extra workload demands, companies quite often tackle the search and sourcing for candidates themselves because they are reluctant to hire a recruiting firm. Before allocating internal resources to start the hiring process, companies should consider seven benefits that recruiting firms can provide them.
1) Access to Amazing Talent
The top tier of candidates is not actively looking for jobs, or, spending time looking at online job postings. Instead, they are often contacted directly by recruiters for job opportunities. Because of this, recruiting firms build a large pool of top-quality candidates to present to companies. In our experience, once clients engage with us, they have already waited for approvals and endured months trying to find the right candidate for their specific roles. They wait patiently to receive online application submissions, only to then realize that those applicants are not a good fit. Valuable time is wasted.
2) Save Time
Most companies cannot afford to have a job open for too long before it starts to hinder the success of the business. We know too well that this adds stress to those employees who are taking on additional responsibilities once companies scramble to cover workloads. It can take countless hours and weeks for internal recruiters to source job boards, review resumes from online job submissions, contact the applicants, pre-screen, and set up job interviews. And, don't forget the difficult task of meeting executives' schedules! When companies outsource the hiring to recruiting firms, the entire process gets handled by the firms, which allows employees to focus on operating the business. Recruiting firms are always building candidate pipelines that are thoroughly vetted and immediately available for consideration. This reduces the time-to-hire from weeks to days, without compromising on quality.
3) Reduce Turnover Rate & Save Costs
High turnover rates are very costly for companies and those numbers can be elusive. Proven studies show cost ranges from $15,000 to $50,000, if not more. Companies incur sudden costs during talent acquisition and onboarding, which can include weeks of orientation, training, and ramp-up time to learn the key aspects of the role. When companies make a poor hire, they lose money on time and resources spent, not to mention, a replacement. Turnover creates less productivity and directly affects morale for the employees invested in the training and development process. For these reasons, it is critical to find the right hire the first time around. Recruiting firms provide a helpful, thorough hiring process, which includes technical, intangible, and cultural vetting, comprehensive background checks, and not to mention, helping clients reduce time-to-fill.
4. Achieve a Flexible Hiring Strategy
Combining a strategy of full-time and contract workers enables companies to meet the workload demands and the ever-changing work environments. Recruiting firms support the need for flexible hiring strategies by providing various hiring options, catered to your preferences.
The first solution, temporary staffing, is a great option for companies that are looking for temporary help for a short- or long-term project or for seasonal work. Recruiting firms will provide skilled professionals who can start right away, commonly within 24 hours. The firms will handle payroll, benefits, and other HR needs on behalf of the temporary employee, which is a cost-saving solution for all employers.
Another great flexible solution offered by recruiting firms is called "temp-to-perm" or "contract-to-hire." This solution allows companies to hire a professional on a temporary basis to support a project or task, and after a short period of time demonstrating performance, the company can hire the consultant full-time. Simply stated, this is a "try-before-you-buy" concept, that allows the client and candidate to get to know each other and determine chemistry for a long-time commitment.
A third solution, permanent hiring, gives employers the opportunity to rely on recruiting experts to conduct sourcing, candidate identification, vetting and screening, interview process and management, references, and offer negotiations.
5) Industry Expertise
Most recruiting firms specialize or focus on their industry niche(s), so they already will have a pool of highly skilled candidates for you. Employees and internal recruiters are routinely asked to fill positions across various departments which is time-consuming and can be overwhelming. Recruiting firms bring expertise for hard-to-fill positions, something that internal recruiters may not be able to dedicate to, because of time or technical ability.
6) Salary Benchmarking
Salaries and hourly rates are constantly changing, making it difficult for employers to stay on top of market standards. Working with recruiting firms makes this easy. Firms often do their own local market benchmarking and will publish their own salary guides. When employers know the current rates for the positions they want to hire, they are better prepared as they enter approvals, all the way to offer negotiations.

Click here to access Cordia's most recent accounting and finance, information technology, and human resources salary guides for the Washington DC Metropolitan area.


7) Culture Fit
The phrase, "Hire for culture fit!" is a very common, popular habit among many companies. Companies want the perfect blend of appropriate skills and a candidate who will the match core values of the company. When employers are hiring on their own, they start with a culture fit in mind, but don't know how to strategically match up candidates because they often lack interviewing proficiency, have not established core values, or lack an overall mission. Alternatively, recruiting firms are experts in making culture fits come together for candidates and employers. Through client education and history and a focused candidate evaluation process, recruiters shortlist those candidates who fit the requirements and are technical and intangible matches immediately.
Conclusion
Paying a recruiting fee holds immediate and long-term value and a positive return on investment. Companies should learn to understand that the value and service performed by recruiting firms will save internal employees time and effort. When you factor in the ability to creatively access top-quality talent, save time and cost, and have access to flexible hiring options, the value in working with recruiting firms is immeasurable.
If you want to learn more about working with a recruiting firm, or are ready to start the hiring conversation, contact us at Cordia Resources.
Contributors: Veronica Vannoy, Shelby Lemmon & Nat Jones