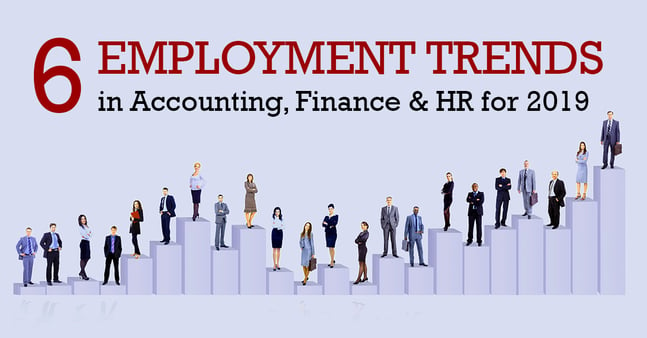 Favorable economic conditions are expected to continue in 2019 as reported by Staffing Industry Analysts (SIA). Specifically, SIA projects 3% revenue growth comprised of temporary staffing, direct hire and retained search services. The employment rate continues to be at its lowest point in 49 years and within the finance and accounting field the rate is lower than the national average. This tight talent market has made searching for top qualified candidates a struggle and it is predicted that 2019 will follow a similar pattern. As you and your organization outline what business success looks like, consider these trends.
---
1. New compliance standards will increase the need for temporary staff.
The Financial Accounting Standards Board released new compliance standards in 2018 that will mostly likely drive companies to rely on temporary skilled accounting and finance professionals to adhere to these standards. ASC 606 changes how companies recognize revenue tied to a performance obligation and ASC 842 will require companies to report most leases on their balance sheet. The deadline for compliance with these new standards was December 2018 for public companies and December 2019 for all other entities.
2. Accounting jobs are hot in the medical/pharma industry.
The healthcare industry continues to be a hot market for accounting and finance professionals. Medical organizations are focused on improving customer service and increasing efficiencies through the use of improved payment models and technology. Increased demand for occupations in the accounts payable, financial business analysis, medical billing, and collections are expected in 2019.
3. Hiring for culture fit continues to be a #1 priority.
Company culture has been a driving employment requirement for years and it will continue to be in 2019. Choosing to hire highly-skilled employees who will embrace an organization's mission is becoming fundamental to retaining talent. When new hires fit the organizational values, culture grows stronger, turnover is reduced, and employee productivity and engagement increase. Another important factor influencing culture fit is an organization's ability to build diversity in the workplace by hiring people from diverse cultures and backgrounds.
4. Artificial intelligence is elevating human roles.
The creation of robots including chatbots is creating efficiencies in the workplace and that doesn't mean it's replacing human jobs. Automating routine tasks such as handling advice, employee surveys and vacation requests are allowing employees to focus on more important tasks. HR departments are optimizing the candidate selection process with computer intelligence doing the grunt work so they can focus on assessing soft skills and culture fit. In accounting and finance areas, AI is replacing the manual accounts payable process. The AP workflow process is now automated by software that analyzes, recognizes, directs, and exports data into an ERP financial system. The use of AI is having a positive impact on Finance departments with employees being freed up to perform analysis, strategy and critical thinking. As the maturity and industrialization of AP automation solutions continue, so will the creation of other business models using AI.
5. Flexibility in the workplace is driving retention.
Millennials are becoming the majority in the workplace and a driving factor to retain them is offering them a healthy work-life balance. By 2025, they are poised to make up 75% of the workforce so HR departments will need to find ways to allow for remote work or flexible hours, while maintaining productivity and communications.
6. Technology proficiency takes center stage.
The digital transformation of accounting functions is requiring accounting firms to hire technology proficient accounting and finance professionals. These professionals need to be well-verse in the latest tax laws and compliance requirements as well as be skilled in examining a client's financial records and advising on business processes. As we move into 2019, companies will seek to hire accountants, auditors and analysts who are experienced in one or more accounting systems or they will need to address the challenge by providing training and exposure to technology projects.
---
In this tight talent market, finding the right talent is a challenge most companies are facing. This the perfect time to consider working with a recruiting and staffing agency to find the perfect CFO, controller or junior-level accountant. Get advice from our account managers and recruiters on job descriptions, salary ranges, and culture fit to ensure you find the perfect professional to join your team. Whether you are looking to hire temporary or permanent staff Cordia is ready to give you the best advice!
Sources: www.accountingtoday.com, engage.kunun.com, www2.staffingindustry.com, aicpa.org
About Cordia Resources
Cordia Resources is a leading recruiting, executive search, professional consulting and temporary staffing firm specializing in placing accounting, finance, contract administration and human resources professionals throughout the Washington, DC region. Our expert search, recruiting and staffing solutions support business growth in the commercial and not-for-profit markets, government contracting, technology, professional services, hospitality, real estate and many other industries. Learn more about our staffing solutions at www.cordiaresources.com
About Cordia Partners
Cordia Partners is a leading provider of outsourced accounting, technology consulting, and business advisory services in the Washington, DC region. Our proactive, client-centered approach allows you to focus on your core competencies and overall success of your business. We support government contractors, commercial firms and not-for-profit organization during all stages of business growth with best practices and real-world strategies that drive results. Learn more about our consulting and outsourced accounting solutions at www.cordiapartners.com.