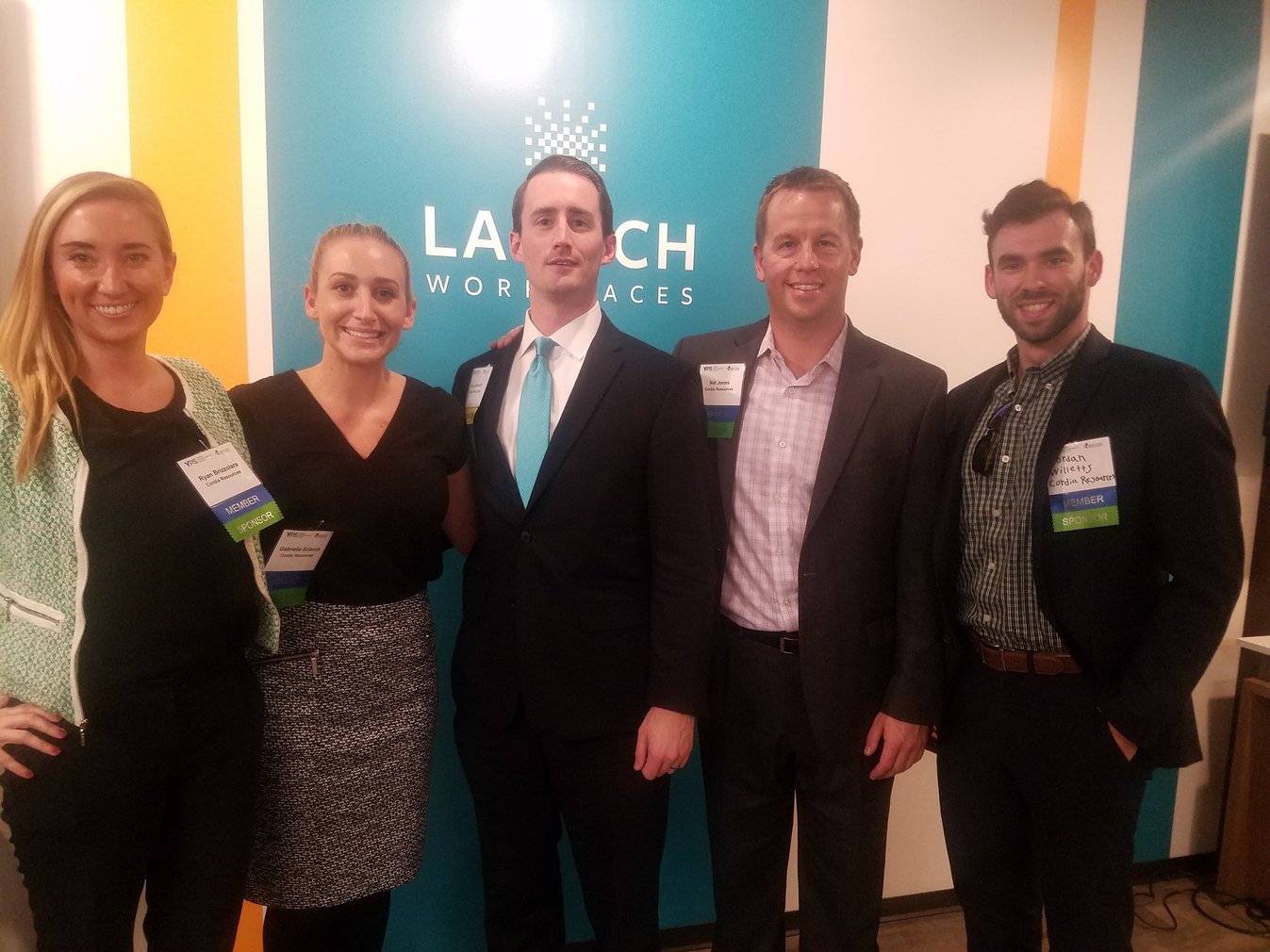 On Wednesday, October 18, 2017, Cordia's own Evan Seward served as moderator for the Maryland Tech Council's Young Professionals Society's networking and educational event. The topic was "Path to Success: The Journey of Spotluck CEO, Cherian Thomas." Held at Launch Workplaces in Gaithersburg, MD, it was an insightful discussion featuring firsthand accounts from Cherian about his journey to success. Cherian, who is the CEO of one of iTunes' most popular dining apps, shared his insights and experiences about what it takes to build and lead a company from a young professional's perspective.
Several of Cordia's accounting and finance recruiting team members attended the event to show their support for their colleague, Senior Recruiter, Evan Seward, and to meet and mingle with other young professionals in the Washington, DC area. Cordia is pleased to sponsor Maryland Tech Council events, and specifically the Young Professionals Society, which focuses on advancing young professionals through leadership, professional development, networking opportunities, and educational events.
About Maryland Tech Council's Young Professionals Society
The Maryland Tech Council launched YPS in April 2017 and has since held four networking events for Maryland young professionals. The society aims to strengthen the life science and technology communities in Maryland by providing an opportunity for collaboration between these two industries. To learn more about YPS and keep up with all YPS events and news, follow them on Twitter and LinkedIn.
About Cordia Resources
Cordia Resources (www.cordiaresources.com) is a leading recruiting, professional consulting/staffing and executive search firm specializing in placing accounting, finance, contract administration and human resources professionals throughout the Washington, DC area. As part of the Cordia Partners services platform with access to an unmatched pool of talented accounting professionals, we provide expert recruiting and staffing solutions to our clients in the commercial and not-for-profit markets, including government contracting, technology, professional services, hospitality, real estate, and more. To learn more about Cordia Resources and the events and groups we sponsor, follow us on Twitter, LinkedIn and Facebook.