Cordia Resources is proud to be a sponsor of the Northern Chapter of the Virginia Society of CPAs and partnered with them to present "Career Management for CPAs" on Thursday, October 5, 2017. As part of the Young Professional Networking Event series, the meeting and presentation included 1 CPE credit. It was a highly informative seminar where attendees learned about the importance of career management and future trends in the accounting and finance field.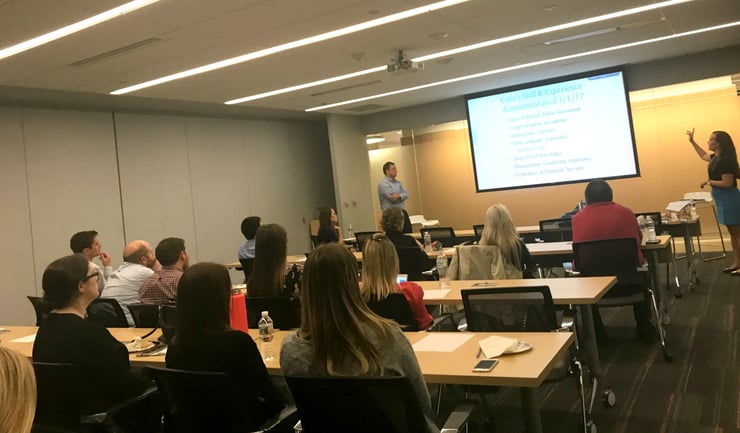 Ryan Delaney, Partner at Cordia Resources, and Katie Delaney, formerly of EY and currently an Accounting Manager at Appian, went over workforce trends and statistics specifically geared for accounting professionals with 0-7 years of experience. Career Management in the early stages of your career is crucial to laying the foundation for future success. Effective career management is an on-going process that requires a proactive strategy which includes understanding industry and job market trends, relationship building and long-term career planning for targeted professional development. Below are all of the topics covered in the presentation!
Current Job Market Assessment for Accounting Professionals in Washington, DC area
Career Strategies to lay the ground work for future success
Highly Valued Skills and Credentials for Accounting and Finance Professionals
Career Tracks for early career CPAs
How to create a Career Road map
Maximizing Opportunities in Your Current Role
Transitioning out of Public Accounting – a personal perspective from Katie Delaney
Career Building Strategies outside the workplace
About Cordia Resources
Cordia Resources (www.cordiaresources.com) is a leading recruiting, professional consulting/staffing and executive search firm specializing in placing accounting, finance, contract administration and human resources professionals throughout the Washington DC area. As part of the Cordia Partners services platform with access to an unmatched pool of talented accounting professionals, we provide expert recruiting and staffing solutions to our clients in the commercial and not-for-profit markets, including government contracting, technology, professional services, hospitality, real estate, and more.
About Cordia Partners
Cordia Partners is the leading provider of CFO advisory, financial and technology consulting, executive search, recruiting & staffing, and outsourced accounting services in the Greater Washington area. Visit us at www.cordiapartners.com.