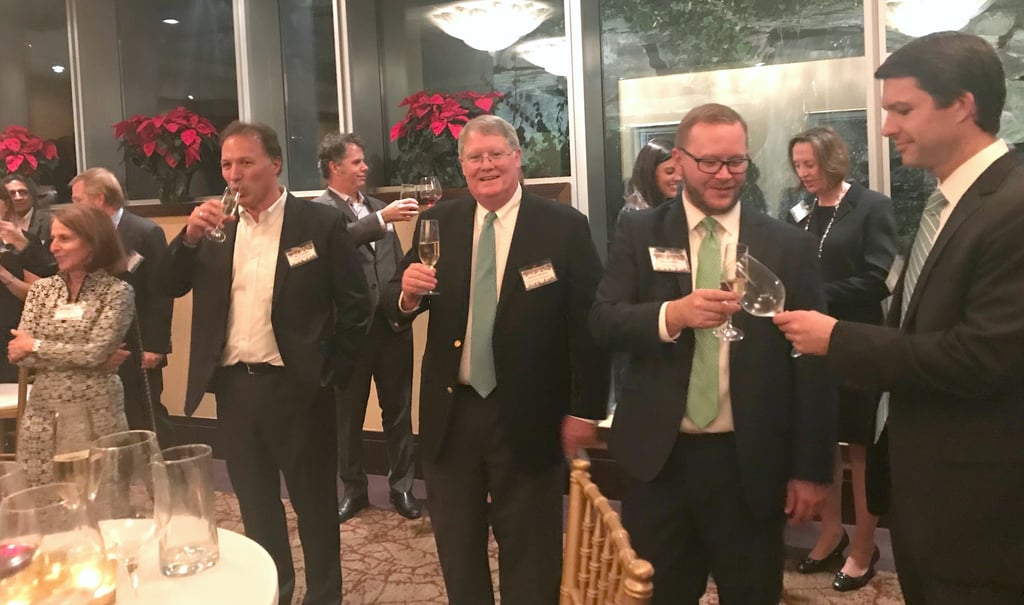 From Left to Right: Donna Kilbourn, Alex Castelli, Joseph Greeves, Scott Loftis and Charlie Carroccio
On Thursday November 30th, Cordia Resources, Wells Fargo, CBRE, Cohn Reznick and Unanet invited CFO level executives in the Washington Metro DC area to a holiday networking event to kick off the winter season! Over 85 guests came together at 2941 Restaurant in Falls Church, VA for a fun filled evening filled with drinks, hors d'oeuvres, and making great connections! During the event all of the sponsors (see photo above) came together give a champage toast to thank all the guests for coming out and announced the raffle winner of 4 amazing seats to an upcoming Washington Capitals game. "The holiday event is certainly a fun evening for everyone that attends and a great opportunity to catch up with old friends, as well as make new connections. We're delighted to partner with these industry leaders in the Washington DC area and sponsor such unique networking events. We're also proud to be a vital part of our business community and provide exceptional finance and accounting talent to many of the companies that make up that community," noted Don Greeves, Managing Partner for Cordia's Maryland and DC offices.

To find out more about events that Cordia Resources hosts or how we can help you with your finance, human resources, and accounting needs, contact us today!
About Cordia Resources
Cordia Resources (www.cordiaresources.com) is a leading recruiting, professional consulting/staffing and executive search firm specializing in placing accounting, finance, and human resources professionals throughout the Washington DC area. As part of the Cordia Partners services platform with access to an unmatched pool of talented accounting professionals, we provide expert financial recruiting and staffing solutions to our clients in the commercial and not-for-profit markets, including government contracting, technology, professional services, hospitality, real estate, and more.
Visit us at www.cordiaresources.com.