Manage Your Team, Manage Your Career Series

By Shawn Geegbae
As a Recruiter, I interview candidates for potential roles in accounting and finance on a daily basis, but a few years ago I was searching for a job myself and scared of interviewing. What I've learned from being on both sides of the recruiting process is that if you know what to expect from an interview, you won't dread it and it may become a fun and enjoyable experience.

Interviews are all about having good communication skills and the more you practice the better you communicate. You should know that the main goal for the hiring manager during the interview is to get to know the candidate professionally and personally within 30 minutes. A tough ask for both parties involved, but it can be done quite successfully. Here are four tips for you to ace your next job interview:
To follow the series Manage Your Team, Manage Your Career or to learn more click here.
1. Know your previous company well. In fact, know your last three roles and companies very well.
When I say know the company, I mean be prepared to explain your role and the company. For example, you could say something like this, "Currently, I'm a Senior Accountant at ABC Company. The company is a large non-profit focused on IT services. The accounting team I'm on is comprised of four individuals and my major responsibilities include…"

You will want to say all this information in a concise way so practice a few times before you interview. Share enough information about your role and the company but be careful not to dominate the discussion. Remember at the root of it, an interview is a conversation. Your goal is to be able to concisely highlight your relevant professional experience at each company that you worked for and then listen and respond to the hiring manager's questions. Hiring Managers are looking for great communicators, good presentation, and someone who understands the role, and their current/previous company inside and out (size, revenue/budget, and industry, etc.).
2. Answer the question "Why are you leaving your current job?" like a Pro.
This is never an easy question to answer so focus your answer on the future rather than the past, especially if your departure wasn't under the best of circumstances. Here are a few examples of how you might gracefully answer this question.

"After trying to make the job work, I realized a better fit would be in another position that aligned more with the skills I want to learn. These skills include …" or

"While I learned great skills at my previous job, I was no longer feeling challenged with the work. I am ready for a new opportunity and the chance to make a greater impact."
3. Know the role requirements of the new job
Review the job requirements of the new role and consider each point as an active or potential pain point for the hiring manager. They may be looking to solve a gap or looking for talent with additional technical proficiency. So, prepare a concise response, anecdote, or summary to share about each point. For example, if one point addressed is "Candidate must have experience managing general ledger…" be ready to respond by telling the hiring manager about your experience managing the general ledger. Imagine each job requirement as a possible question and be prepared to respond.
4. Ask questions at the end of your interview
Don't end the interview without asking the hiring manager a single question. Asking questions is a must. It gives you the opportunity to create rapport and leave the interview on a positive note. Below are questions to consider asking when the hiring manager asks you, "Do you have any questions?" At the very least, choose 3-4 questions from the list or come up with a few that you want to ask.
How did you find your role at ABC Company?




What do you love most about working at ABC Company?




Can you tell me about your most recent successful hire and what has contributed to his/her success?




Can you provide examples of projects I'd be working on?




What qualities and attributes does a person need to be successful in this role?




What is the company culture and work environment like?




What has been the company's biggest challenge this year and how can this role help overcome it?




How can I measure my performance, so I know I'm having a positive impact on this challenge?




What are the next steps in the hiring process?
That's it. In summary, use these four tips to prepare for your next job interview and practice your conversations a few times before you interview. In no time you will become a pro at interviewing and build your confidence at the same time. Good luck!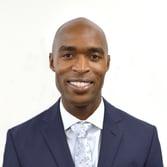 Shawn Geegbae is a Recruiting Manager for Cordia Resources based out of the Tyson's office. He is focused on full-cycle recruiting through sourcing, qualifying, and building long-term relationships with job seekers in the Washington, DC area to help them meet their career goals. Prior to Cordia Resources, Shawn worked as the Business Development Manager for a financial literacy startup in Los Angeles, CA. Through sports, Shawn and his organization taught middle school and high school students financial concepts in a more interesting, relatable, and applicable way. After graduating from Syracuse University with a B.S. in Finance, Shawn spent several years on Wall Street as a commodity broker. Shawn enjoys reading and writing, as well as being an avid sports fan.