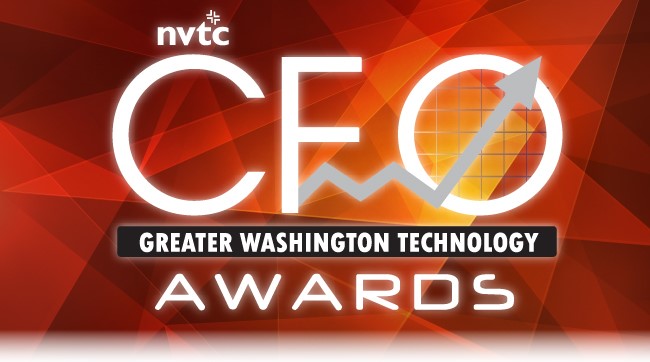 On June 5, 2017, Cordia sponsored the kick-off reception for the Greater Washington Technology CFO Awards. More than 750 people gathered at the Ritz-Carlton, Tysons Corner for the event, which is celebrated annually and hosted by Northern Virginia Technology Council. This year, in addition to recognizing the Washington DC area's top CFOs, the Council posthumously honored Greg Kuykendall and Harry Weller, two industry leaders who passed away in 2016, for their contributions to the Greater Washington DC's technology community with the Michael G. Devine Hall of Fame Award.
The finance and accounting team at Cordia Resources came out in record numbers to support the event. Joe Greeves, Managing Partner for Cordia Resources commented, "The NVTC CFO Awards is always an exceptional event, and we've been fortunate to be able to support it for many years. Each year, we enjoy catching up with our friends in the tech finance and accounting community, taking an evening to celebrate their extraordinary achievements, and remembering those we've lost as well. It's a special community of talented and dedicated individuals, and Cordia whole-heartedly congratulates the finalists and winners."
Christine Pazmino, Senior Finance and Accounting Recruiter based in Cordia's Rockville office added, "The NVTC CFO Award ceremony is always a fun and lively event where we can reconnect with our candidates and clients in the finance and accounting community. It's also a great way to make new connections in the community we serve."
About Northern Virginia Technology Council
The Northern Virginia Technology Council (NVTC) connects, grows, educates and advocates for Northern Virginia's innovative and entrepreneurial tech community. To learn more about NVTC, visit their website.
About Cordia Resources
Cordia Resources (www.cordiaresources.com) is a leading recruiting, professional consulting/staffing and executive search firm specializing in placing accounting, finance, and human resources professionals throughout the Washington DC area. As part of the Cordia Partners services platform with access to an unmatched pool of talented accounting professionals, we provide expert financial recruiting and staffing solutions to our clients in the commercial and not-for-profit markets, including government contracting, technology, professional services, hospitality, real estate, and more.
Visit us at www.cordiaresources.com.