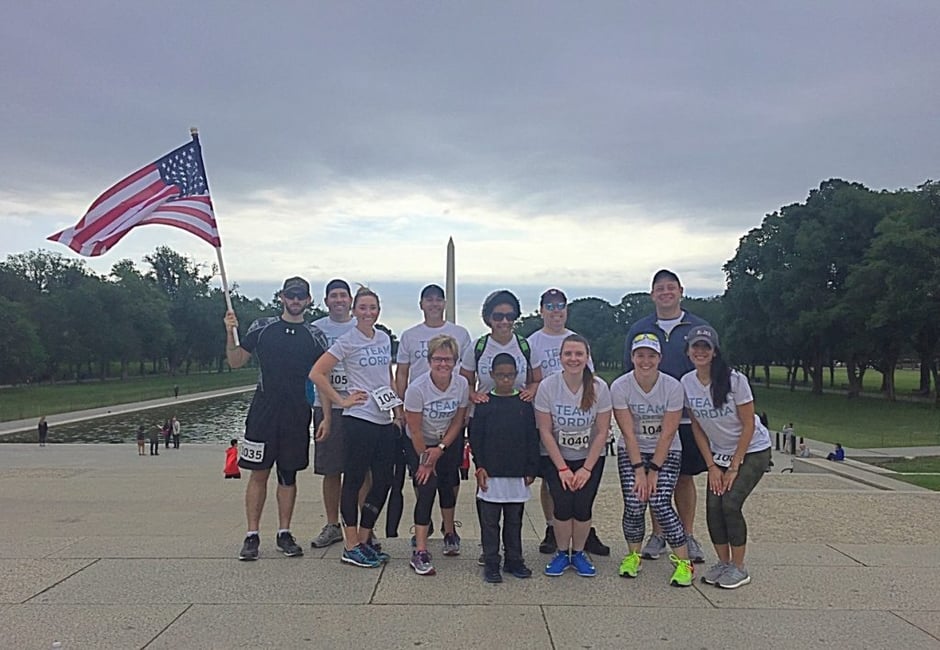 Along with providing exceptionally qualified accounting and finance talent to the Washington DC area, the team at Cordia Resources is an active and healthy one that loves to have fun and support a great cause. On Sunday, May 21, 2017, the team got up bright and early to participate in the Semper Fi 5K Run/Walk to help raise over $40,000 for our nation's wounded warriors. The weather was perfect for running and walking; the route was beautiful and historic, starting at the Lincoln Memorial and traveling along the Potomac River; and the 5K race was a blast!
The finance and accounting recruiting team at Cordia Resources was pumped to show our support for our troops! We arrived early, snapped some team pictures, and with teamwork, sweat, and a whole lot of laughs, we all finished the race! We were honored to take part in the 2017 Semper Fi 5K Run/Walk that raised over $40,000 for our wounded warriors. AWESOME team effort everyone!
To learn more about The Semper Fi Fund and start planning for next year's 5K, click here https://semperfifund.org
We'll see you there!
About Cordia Resources
Cordia Resources is a leading recruiting, professional staffing and executive search firm specializing in placing accounting, finance, human resources and contract administration professionals throughout the Washington metropolitan area. As part of the Cordia Partners services platform with access to an unmatched pool of talented accounting professionals, we provide expert financial recruiting and staffing solutions to our clients in both the commercial and not-for-profit markets, including government contacting, professional services, technology, hospitality, real estate, and more. Visit us at www.cordiaresources.com.
About Cordia Partners
Cordia Partners is the leading provider of CFO advisory, financial and technology consulting, executive search, recruiting & staffing, and outsourced accounting services in the Greater Washington area. Visit us at www.cordiapartners.com.