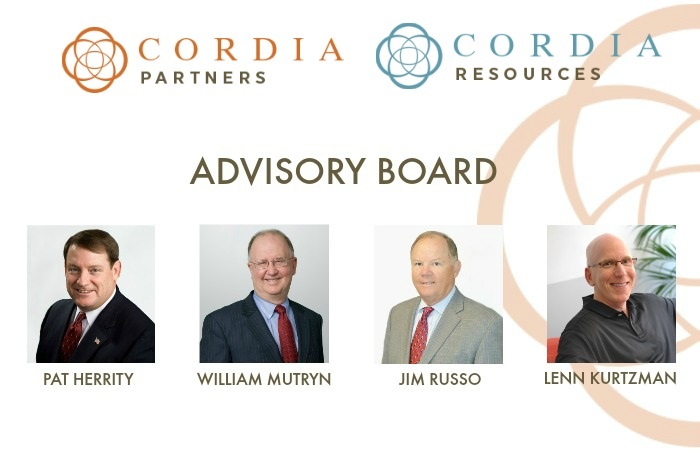 April 11, 2017
Cordia Partners & Resources, a leader in the accounting, finance, human resources, and contract administration services market, providing outsourcing, consulting, recruiting, professional staffing and executive search services throughout the Washington DC metropolitan area, announced the formation of the company's advisory board.
The Cordia advisory board consists of senior industry executives and includes Pat Herrity, former Chief Financial Officer at Delex Systems; Lenn Kurtzman, Chief Financial Officer at ThreatQuotient; Bill Mutryn, counsel at Holland & Knight and former co-leader of the firm's Corporate Mergers and Acquisitions Group, and Chief Strategy Officer of Bluestone Capital Partners; and Jim Russo, managing director of Potomac Consultants Group. Read more about Cordia's advisory board here.
"We are delighted to have such an outstanding group of industry leaders and C-level executives to serve on our advisory board and help us with our strategy for growth in the Washington DC metropolitan market," noted Mitch Weintraub, Cordia Partners' Managing Partner.
"Our advisory board is a reflection of Cordia's diverse and deep understanding of the Washington DC business community. With expertise in high tech, government contacting, mergers & acquisitions, law, finance & accounting, government & public policy, we are fortunate to be able to leverage their knowledge and incorporate it into our growth strategy," added Joe Greeves, Cordia Resources' Managing Partner.
"I'm excited to serve on Cordia's Advisory Board and look forward to sharing knowledge and experience to help fuel their tremendous growth," added Advisory Board member Bill Mutryn.
The Advisory Board will meet periodically to provide advice and guidance to Cordia on its growth strategy, potential customers, and organizational structure.
About Cordia Resources
Cordia Resources is a leading recruiting, professional staffing and executive search firm specializing in placing accounting, finance, human resources and contract administration professionals throughout the Washington DC metropolitan area. As part of the Cordia Partners services platform with access to an unmatched pool of talented accounting professionals, we provide expert financial recruiting and staffing solutions to our clients in both the commercial and not-for-profit markets, including government contacting, technology, professional services, hospitality, real estate, and more. Visit us at www.cordiaresources.com.
About Cordia Partners
Cordia Partners is a leading provider of outsourced accounting solutions, business advisory, recruiting & staffing, and executive search services in the DC Metro area. Our proactive, client-centered approach allows you to focus on your core competencies, and, ultimately, the overall success of your business. With offices in Northern Virginia, Maryland, and DC, we are here to support the growth of your business. Visit us at www.cordiapartners.com.
See the press release on PR Newswire here.