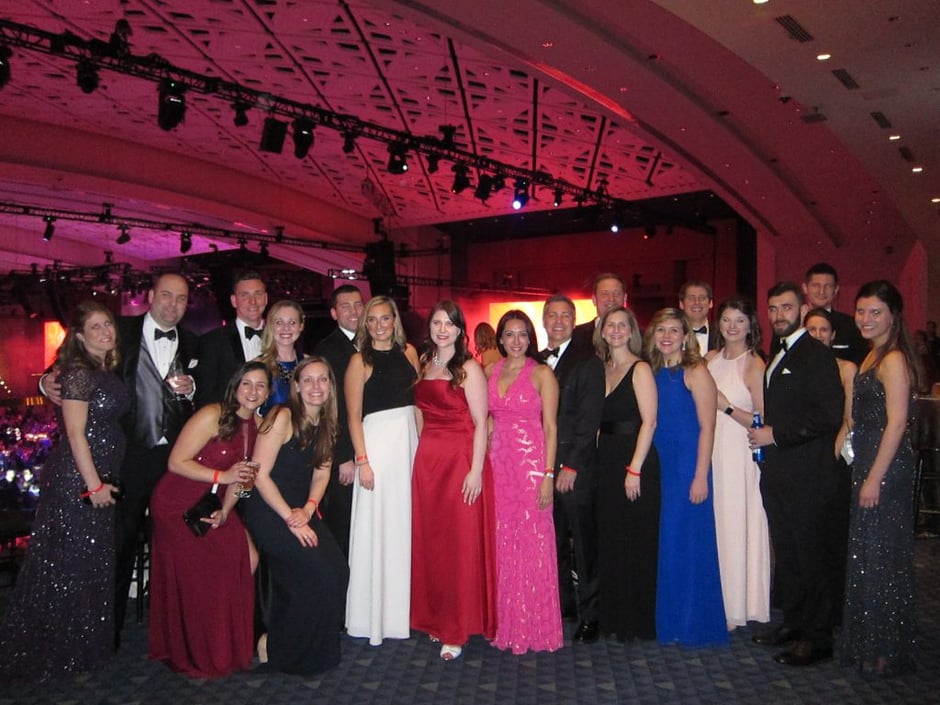 Cordia Resources' Young Accounting Group attended the Leukemia and Lymphoma Society Ball with our team of finance and accounting recruiting professionals on Saturday, March 11, 2017, at the Walter E. Washington Convention Center in Washington DC. The Young Accounting Group was thrilled don black-tie attire and show our support for the Leukemia and Lymphoma Society as part of the LLS Young Professionals Group, who took the celebration up to the balconies and enjoyed a great night of great entertainment, which included comedian Jim Gaffigan and musician Andy Grammer.
Ryan Delaney, Partner, commented: "We started the Young Accounting Group in 2015 and really have a lot of fun with it. It's a good way to connect with up-and-coming finance and accounting professionals from firms across the Washington DC area, and this evening gives young accounting professionals an opportunity to take a break from hectic schedules, support a great cause, and enjoy one of Washington DC's most exciting events."
The celebration was also a perfect opportunity to welcome two new members to the Cordia Resources team: finance and accounting recruiter, Ryan Brizzolara and operations coordinator, Shelby Lemmon, who will both take part in managing our numerous upcoming finance and accounting recruiting networking events at Cordia Resources.
About Cordia Resources:
Cordia Resources is a leading financial staffing and executive recruiting firm specializing in filling temporary and permanent finance and accounting positions. Founded by former CFOs at Fortune 500 companies, Cordia has access to an unmatched pool of accounting and financial talent, allowing us to quickly identify highly skilled consultants and candidates at all levels. We provide expert financial recruiting and staffing solutions in the public and private sectors, including non-profit organizations, government contractors, hospitality, real estate, technology, and more.
As part of the Cordia Partners services platform, Cordia Resources has fifteen financial recruiting professionals on staff, and leverages its in-depth industry expertise to fill all levels of permanent and contract finance positions – from CFOs to Staff Accountants.
For more information about Cordia's financial recruiting and staffing services or to submit your resume for consideration, contact us today!
Or call us at 703-462-6200 in Virginia; 301-463-4630 in Maryland; and 202.904.2417 in Washington DC.