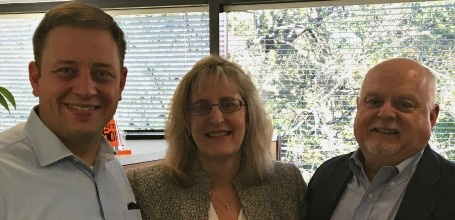 Last night's company Staff Meeting and Happy Hour was the perfect venue to recognize and congratulate Cordia Partners' and Cordia Resources' three new partners: Lori Stanley, Mike McCoy and Ryan Delaney. Congratulations to our new partners on their well-earned promotions!
Lori Stanley has been with the Cordia Partners team since its inception and plays a vital role for the Cordia Partners and Cordia Resources team. Lori not only serves as internal Controller and Human Resources Manager for the Cordia Partners and Cordia Resources team, but also brings over 25 years of professional accounting expertise to commercial and not-for-profit clients throughout the Washington DC area. "Lori is an essential member of the Cordia Partners and Cordia Resources team, and has been with us from day one," said Mitch Weintraub, Managing Partner for Cordia Partners. "Our partners, employees, clients and consultants depend on her. She is truly the backbone of our business," added Joe Greeves, Managing Partner of Cordia Resources.
To support our exceptional growth, new partners Ryan Delaney and Mike McCoy will lead two of our three offices in the Washington DC metro area. Ryan Delaney will focus on the continued expansion of the Virginia office, located in Tysons Corner, and Mike McCoy will lead the firm's expansion into the Washington DC market with its new office, located at 12th Street NW, directly above the Metro Center. Ryan Delaney added, "We are growing and looking for talented finance and accounting recruiting professionals, in all three of our office locations: Tysons Corner, Rockville, and Washington DC. If you're looking for an exceptional opportunity to learn from the best in the industry, contact us here."
About Cordia Resources
Cordia Resources is a leading recruiting, staffing and executive search firm specializing in placing accounting, finance, and contract administration professionals throughout the Washington metropolitan area. As part of the Cordia Partners services platform with access to an unmatched pool of talented accounting professionals, we provide expert financial recruiting and staffing solutions to our clients in both the commercial and not-for-profit markets, including government contacting, professional services, technology, hospitality, real estate, and more. Visit us at www.cordiaresources.com.
About Cordia Partners
Cordia Partners is the leading provider of CFO advisory, financial and technology consulting, executive search, recruiting & staffing, and outsourced accounting services in the Greater Washington area. Visit us at www.cordiapartners.com.