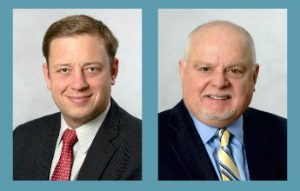 Cordia Resources Announces Partner-Level Promotions
September 22, 2016
Tysons Corner, VA – Cordia Resources, a leading Washington DC finance and accounting recruiting and staffing firm, is pleased to announce two key promotions within the organization: Ryan J. Delaney as Partner, to lead the Tysons Corner office and Michael R. McCoy, as the Partner to lead the newly-established Washington DC office.
"As a result of our continued rapid growth in the DC metropolitan area, we are expanding our senior management team to meet the heightened demands of our clients who have come to rely on us for quality services. Our new partners are exceptional performers and team builders and their efforts have been instrumental to our success. We congratulate both of them on these well-deserved promotions," noted Joseph (Joe) F. Greeves, Cordia Resources' Managing Partner.
Ryan Delaney, Partner, will focus on the continued expansion of the Virginia office, located in Tysons Corner. As one of Cordia Resources' first employees, Ryan brings a wealth of information and experience to the role. He has been instrumental in building a solid foundation to support the company's robust growth while serving as an invaluable resource for many companies in the Washington DC area. With over 11 years in the industry, Ryan is well-positioned to build upon and accelerate the success of our Virginia Office.
Mike McCoy, Partner, brings over 25 years of experience to his role and will lead the firm's expansion into the Washington DC market with its new office, located at 12th Street NW, directly above the Metro Center. As a former CFO, Mike brings an exceptional level of understanding and is able to offer our clients a more consultative approach than typical recruiters when evaluating staffing needs, enabling an ideal match of the right talent to meet the needs of our clients. Mike's deep understanding of the finance and accounting needs of organizations, combined with his ability to identify and recruit top-tier talent, make him an asset that many organizations in the Washington DC area have come to rely upon.
Donald (Don) D. Olinger, managing partner for the Rockville office added, "Mike and Ryan spend the time and effort needed in today's competitive job market, to identify and deliver exceptional talent in the finance and accounting profession and have been essential contributors to our company's rapid growth. We couldn't be prouder of our team and what we've accomplished so far."
About Cordia Resources
Cordia Resources is a leading recruiting, staffing and executive search firm specializing in placing accounting, finance, and contract administration professionals throughout the Washington metropolitan area. As part of the Cordia Partners services platform with access to an unmatched pool of talented accounting professionals, we provide expert financial recruiting and staffing solutions to our clients in both the commercial and not-for-profit markets, including government contacting, professional services, technology, hospitality, real estate, and more. Visit us at www.cordiaresources.com.
About Cordia Partners
Cordia Partners is the leading provider of CFO advisory, financial and technology consulting, executive search, recruiting & staffing, and outsourced accounting services in the Greater Washington area. For more information, visit us at www.cordiapartners.com.
For more information about Cordia Resources' recruiting and staffing services or to submit your resume for consideration, contact us today or call us at 703-462-6200 in Virginia; 301-463-4630 in Maryland; and 202-904-2417 in DC.