On November 7th, Cordia co-hosted and led our annual All Day Controller Forum CPE Event with co-sponsors Unanet, Payroll Network and Wells Fargo at the Hilton in Tysons, VA. The complimentary event provides participants in the accounting and finance community the ability to earn up to 9 CPE credits while learning about relevant business issues. This year we moved the venue location to the Hilton to enable us to have more space to open the event up to more individuals and had over 150 guests in attendance. The full day of learning included breakfast and lunch, networking opportunities, and then wrapped up with a well-deserved cocktail reception which included with a raffle for CAPs tickets.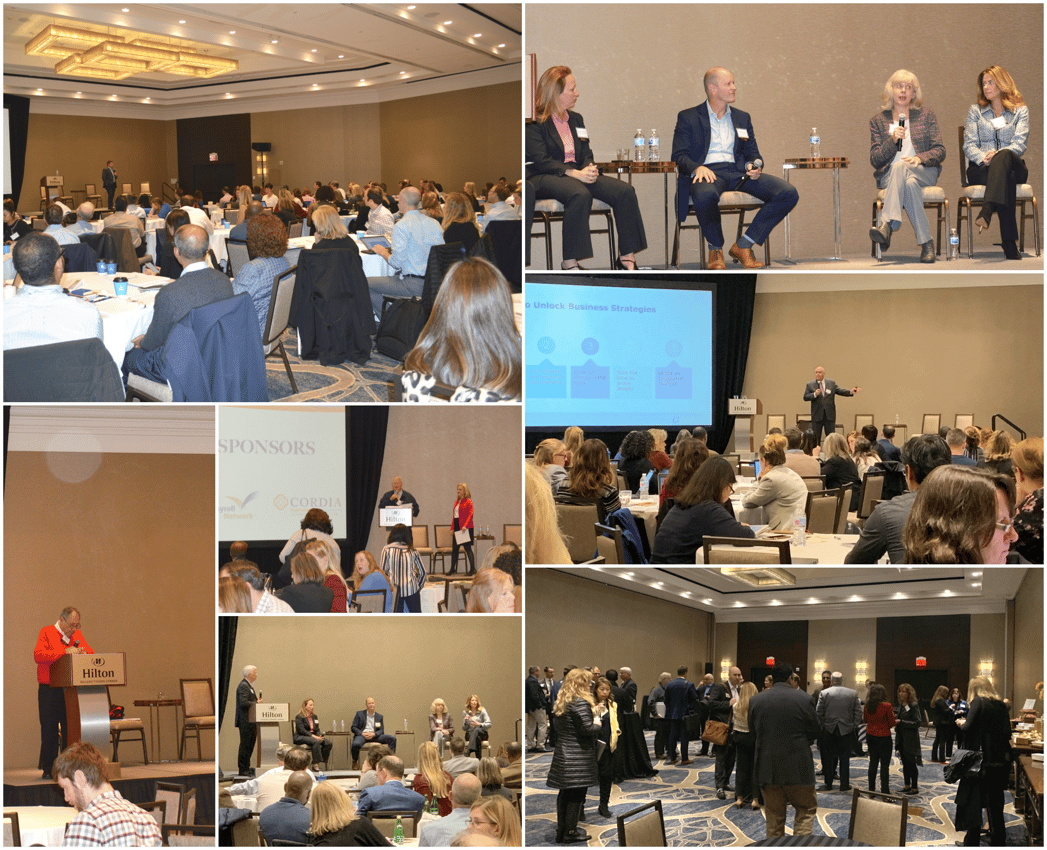 The day began with a 2 hour ethics course that all Virginia CPAs must take annually as a requirement by the Virginia Board of Accountancy (VBOA). This was led by Gary Bulmash from the Business Learning Insitute (BLI) and who is a clinical professor at the Robert H. Smith School of Business, University of Maryland. Following Gary's Ethics course was a 2 hour presentation sponsored by Wells Fargo about various fraud threats that pose a risk to organizations. The presentation was led by John Kolar, Vice President and manager of the Fraud Prevention Team at Wells Fargo Bank. He has over 20 years of experience in financial services, primarily in Treasury Management serving in online product management, technical sales and release management roles.
Attendees were then served a delicious lunch during a 1 hour discussion by a panel of experienced local Chief Financial & Accounting Officers. The moderator for the panel was Don Olinger, a Partner at Cordia Partner & Resources and the panel itself consisted of Pamela Rothka (Octo Consulting), Brian Daum (Space Flight Industries), Jennifer Felix (ASRC Federal) and Jeanine Montgomery (Microstrategy). The panelists shared their backgrounds and then provided career advice to the attendees and discussed challenges they faced throughout their careers.
The afternoon sessions for the day then began with Payroll Network's 2 hour sponsored session. The first presentation led by Dr. Alan Patterson on "How to Build a Culture of Engagement". Dr. Patterson is a published author with over 30 years of experience and has guided more than a dozen Fortune 500 companies in re-thinking how best to elevate their talent and drive effective organizational change. Next was a presentation on "Leading Across Generations" led by Gabrielle Bosché, Founder of The Millennial Solution. Gabrielle is also a published author and frequently gives speeches across the country on generational leadership and millennial motivation.
Unanet ended the day's educational sessions with a presentation on "Selecting the right KPIs for your business", led by Rich Wilkinson. Rich currently leads the Sales Engineering group at Unanet and has spent the last 20 years in senior leadership roles with a number of very prominent software companies and service provider firms in the GovCon sector.
The event was a great success and valuable learning experience for all! We look forward to hosting it again next year.
If you would like to learn more about any of the speakers or see a particular presentation please reach out to Shelby Lemmon.