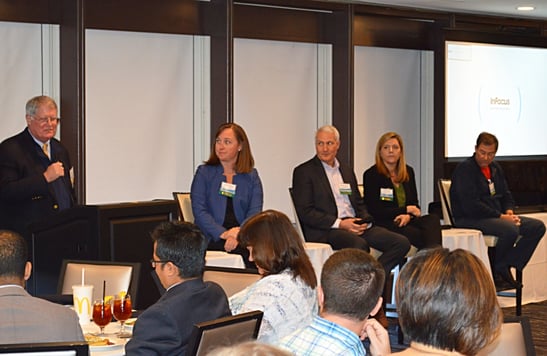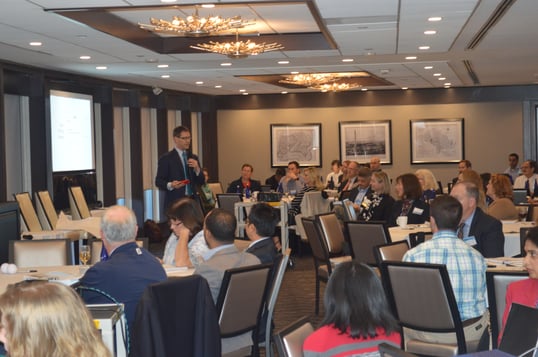 Cordia Partners & Resources co-hosted and led an all day Controller Forum CPE Event on October 30th with Unanet, Payroll Network and Wells Fargo at the Tower Club in Tysons, VA. The complimentary CPE event provides participants in the accounting and finance community the ability to earn up to 9 CPE credits. With over 110 guests in attendance, this year's Controller Forum CPE Event was a great success and valuable learning experience for all that attended!
The day started with Matt Ryan, who led courses on Virginia ethics and an economic update for the year. Matt currently serves as the CFO of an educational institute and as the CFO of a tech startup specializing in dynamic pricing and big data analytics. He has previously worked as a management consultant, specializing in strategic planning, economic forecasting, and risk analysis. In addition, Matt serves as treasurer for numerous political organizations and campaigns at both the state and national levels
Following Matt's two courses, there was a CFO panel: which included Lisa Mayr (EverFi), Mark Lynch (Appian), and Kevin Cheetham (CustomInk). The moderator of the panel was Abby Matia, a Wells Fargo Executive Vice President. The CFO's provided insight to different complex situations they have encountered over the years as well as sharing amusing anecdotes with the attendees.
The second half of the day included presentations from co-sponsors Unanet and Payroll Network as well. Unanet's presentation "The Business of Projects" was led by their Director of Product Marketing, Kim Koster. Payroll Network then ended the day's educational sessions with their presentation on "Building a Phishing Scam-Proof Organization" led by David Baggett, the CEO & Founder of Inky Technology Corporation.
The full day of learning included breakfast and lunch, raffle prizes, and wrapped up with a well-deserved cocktail reception at Chima in Tysons!
About the Controller Forum
The Controller Forum is designed to provide Controllers and other financial professionals with resources to advance their professional and career development. Events include interactive panels featuring insights from top local financial leaders, discussions focused on relevant and timely business issues, and opportunities to broaden and strengthen professional networks and earn CPE credits.
About Cordia Resources
Cordia Resources is a leading recruiting, professional consulting/staffing, and executive search firm specializing in placing accounting, finance, contracts, and human resources professionals throughout the Washington, DC area. Our expert financial recruiting and staffing solutions support business growth in the commercial and not-for-profit markets, including government contracting, technology, professional services, hospitality, real estate and more. Learn more about our staffing solutions at www.cordiaresources.com
About Cordia Partners
Cordia Partners is a leading provider of outsourced accounting, technology and consulting, and business advisory services in the Washington, DC Metropolitan region. For more information and to learn more about our growing team, visit us at www.cordiapartners.com.